Lemon-Thyme Vodka Lemonade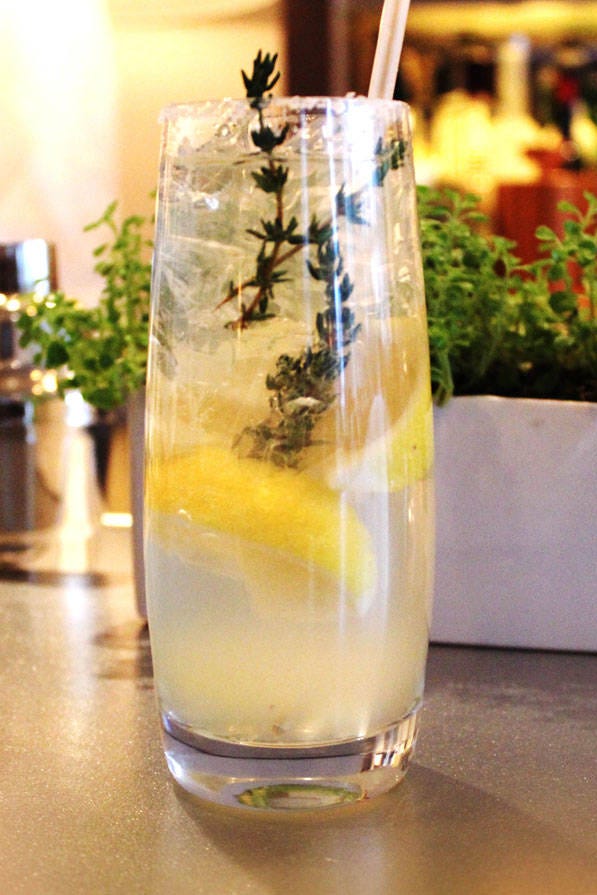 Ingredients:
3 lemon wedges
sugar
.25 cup Lemon-Thyme Syrup
.25 cup citrus vodka
.25 cup club soda
1 sprig fresh thyme, preferably lemon thyme
Run 1 lemon wedge over the rim of a highball glass; dip the rim into sugar. Reserve the lemon wedge.
Put the remaining 2 lemon wedges in a cocktail shaker along with the syrup and vodka. Muddle hard, breaking the lemon skins to release their oils. Cover and shake.
Carefully fill the rimmed glass with ice. Pour the syrup mixture into the glass, lemon wedges and all. Top off with the club soda, the squeeze the reserved lemon wedge over before dropping it into the glass. Garnish with the thyme sprig and serve immediately.
Lemon-Thyme Syrup
Makes 1 cup
.75 cup sugar
1 small bunch fresh thyme, preferably lemon thyme (.5 ounce)
In a small saucepan, heat 1 cup water and the sugar to boiling, stirring to dissolve the sugar. Add the thyme, remove from the heat, and let stand until cool. Strain through a fine-mesh sieve, pressing to extract as much liquid as possible. Cover and refrigerate for up to 3 days.